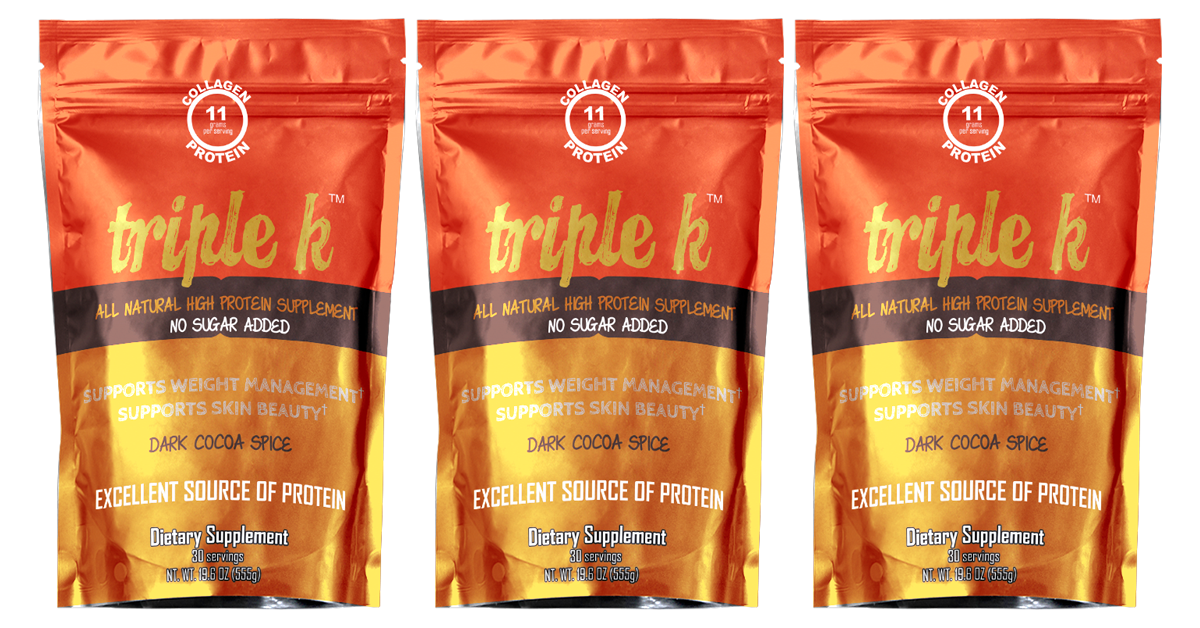 








Triple K Collagen 30 Servings, 3 Pack
List Price: $179.97
Product Description
Sip your way to a healthier, more confident you, with youthful skin, fuller hair and stronger nails to match. A must in your beauty arsenal, our Doctor recommended pasture raised, grass fed, hormone free, delicious collagen protein rebuilds essential amino acids to visibly reduce wrinkles and curb those collagen-depleting sugar cravings like no other.
What makes Triple K the best collagen powder for women?  Not only is it recommended by doctors,  there's zero suspicious ingredients, no added sugar, and no stimulants, meaning feeling good tastes even better. 
Skin loving cocoa provides anti-oxidants and polyphenols which are linked to sun protection, and improvement to your skins texture and hydration.
Cinnamon is know to  support healthy blood sugar while gut loving herb chicory (and cinnamon) reveal your natural radiance from the inside out.
Mastering that hydrated glow that everyone's talking about has never been so easy.  Stock up on Triple K collagen for skin with 1, 2 or 3 skin loving packs.
WHAT YOU GET:
3 Bags Triple K, Dark Cocoa Spice, 90 Servings in Total


30 Day Money Back Guarantee


WHAT IT DOES
Delivers a boatload of the necessary amino acids - proline, glycine, hydroxyproline and alanine required to pump up the collagen, smooth skin, reduce wrinkles, support skin elasticity, hydrate the skin, shed pounds and keep cellulite at bay. *

Amino acids in Triple K Collagen are critical for connective tissue (such as skin, tendons, bone, ligaments and extracellular matrix) health.*)

Healthy hair, beautiful lashes, strong nails, healthy bones and joints.

Stimulant free metabolism booster helps shed pounds.

Supports digestion and inflammation for better skin.*

Amino acid Glycine promotes deeper, longer sleep. Which means more beauty sleep.*

Amino Acid Proline the skin building skin loving superstar.*

Amino Acid Alanine is the anti-oxidant brain boosting skin smoothing amino acid.*

. 

WHAT MAKES IT DIFFERENT
Triple K Collagen Supplement is recommended by Dr.  Muhammad Usman, MD, B.Sc, Certified Nutritionist. 

Excellent Source of Protein.  11g collagen protein per serving, nearly 23% of RDA of protein for women per day.

Derived from pasture raised, grass fed South American bovine.

Triple K Collagen Protein is non GMO, kosher, halal, clean label, and traceable

No Added Sugar
WHY YOU WILL LOVE  IT
Triple K is a great way to start your day, a terrific mid-day snack that helps to keep you fuller longer.

It tastes delicious and it is good for you.

Sip away...younger looking skin. 

Whittle your waist and not get a diet face.

It is satisfying.

Cravings seem to disappear.

It feels good to feel good.

Contains Organic, Fair-Trade Cocoa.

Contains Organic Cinnamon.
DIRECTIONS
Shake bag well. Twice daily, take one serving (1 heaping tablespoon) of powder mixture and place in a cup.  Add 6-12 oz of preferably hot liquid:  water, coffee, moo milk, almond milk, flax milk or coconut milk.  Always stir while pouring liquid. Can be served hot or cold.  Recommend drinking on an empty stomach.  Store in a cool dark place.
INGREDIENTS:
Gelatin, Organic Fair Trade Cocoa, Roasted Barley, Roasted Rye, Organic Cinnamon, Roasted Chicory, Roasted Sugar Beet.
*These statements have not been evaluated by the Food and Drug Administration.  This product is not intended to diagnose, treat, cure or prevent any disease.
Warning: Consult your medical practitioner before using this or any dietary supplement,especially if you are pregnant, nursing, under the age of 18, taking any medications,taking other dietary supplements, or if you have or suspect you may have a medical condition, including but not limited to kidney disease or dialysis. Immediately discontinue use and contact your health care practitioner if any adverse reactions occur.  Keep out of reach of children.